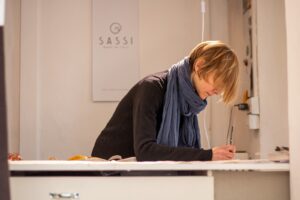 "SASSI" (pebbles) is the name of her charming atelier-workshop in San Salvario district. A small, but multifaceted location, developed on different levels and rich in stunning little nooks. A second home that recalls the same heartwarming, intimate surrounding. In the showroom, the sales from the last collection, the fabrics, some machines and a co-worker, Maddalena, as Alessandra says "really, really clever, who is teaching me a lot in a fruitful mutual exchange", and is training here after her studies at the Scuole San Carlo. We immediately notice the deep humility of the stylist-artisan.
We ask her about her story: "I was born in London by my father, a Roman architect, and my mother, a Scottish girl by birth but grown-up in Frascati, on the Roman hills, that I love and miss. The arts had always been the mainstream of my studies and my interests, in particular the constant passion for fashion and for self handicraft. This interest found the opportunity of a technical and artistic formation in the three-years course at the Roman Academy of Ida Ferri, where I specialized myself in modeling. But my project was still to concretize an activity to be followed in every single passage".
In Torino, by love, she gathered a series of important experiences, that made her get in touch with the Sartoria Gelso (Gelso Tailoring), up until she has realized her first personal Collection entitled 'Sassi'. Why the name 'Sassi'? "Because I've chosen as logo a pebble, which I picked up in Salento and that is now for me a sort of lucky charm. It also highlights my interest for Nature". For three years, while continuing her collaboration with Sartoria Gelso, Alessandra has had her own space to realize and sell her creations.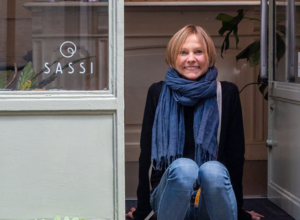 We can admire her clothes hanging in the atelier. Colorful and essential in the design, they are characterized by straight lines and understated femininity, which means a lot for her. Altogether the collection slightly recalls us of Japan. Color is always there and we all need it these days. At a glance, we notice the original fabric patterns that often reproduce plants and flowers. "They are my other passion: flowers and plants. I love them so much that I've realized clothes with fabrics that replicate botanical illustrations, the so-named Textile Herbarium". Double originality, that means exclusivity. A new Spring project is strictly connected to this world, and we won't miss the news on our column…
SASSI ATELIER di ALESSANDRA BERARDI
Via Berthollet 25/c
www.sassi.me
Instagram e Facebook