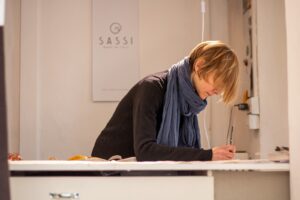 "SASSI" (peb­bles) is the name of her char­ming ate­lier-work­shop in San Sal­va­rio district. A small, but mul­ti­fa­ce­ted loca­tion, deve­lo­ped on dif­fe­rent levels and rich in stun­ning lit­tle nooks. A second home that recalls the same heart­war­ming, inti­ma­te sur­roun­ding. In the sho­w­room, the sales from the last col­lec­tion, the fabrics, some machi­nes and a co-wor­ker, Mad­da­le­na, as Ales­san­dra says "real­ly, real­ly cle­ver, who is tea­ching me a lot in a fruit­ful mutual exchan­ge", and is trai­ning here after her stu­dies at the Scuo­le San Car­lo. We imme­dia­te­ly noti­ce the deep humi­li­ty of the stylist-artisan.
We ask her about her sto­ry: "I was born in Lon­don by my father, a Roman archi­tect, and my mother, a Scot­tish girl by birth but gro­wn-up in Fra­sca­ti, on the Roman hills, that I love and miss. The arts had always been the main­stream of my stu­dies and my inte­rests, in par­ti­cu­lar the con­stant pas­sion for fashion and for self han­di­craft. This inte­re­st found the oppor­tu­ni­ty of a tech­ni­cal and arti­stic for­ma­tion in the three-years cour­se at the Roman Aca­de­my of Ida Fer­ri, whe­re I spe­cia­li­zed myself in mode­ling. But my pro­ject was still to con­cre­ti­ze an acti­vi­ty to be fol­lo­wed in eve­ry sin­gle passage".
In Tori­no, by love, she gathe­red a series of impor­tant expe­rien­ces, that made her get in touch with the Sar­to­ria Gel­so (Gel­so Tai­lo­ring), up until she has rea­li­zed her fir­st per­so­nal Col­lec­tion enti­tled 'Sas­si'. Why the name 'Sas­si'? "Becau­se I've cho­sen as logo a peb­ble, which I pic­ked up in Salen­to and that is now for me a sort of luc­ky charm. It also highlights my inte­re­st for Natu­re". For three years, whi­le con­ti­nuing her col­la­bo­ra­tion with Sar­to­ria Gel­so, Ales­san­dra has had her own spa­ce to rea­li­ze and sell her creations.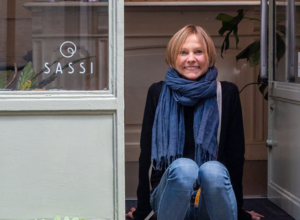 We can admi­re her clo­thes han­ging in the ate­lier. Color­ful and essen­tial in the desi­gn, they are cha­rac­te­ri­zed by straight lines and under­sta­ted femi­ni­ni­ty, which means a lot for her. Alto­ge­ther the col­lec­tion slightly recalls us of Japan. Color is always the­re and we all need it the­se days. At a glan­ce, we noti­ce the ori­gi­nal fabric pat­terns that often repro­du­ce plan­ts and flo­wers. "They are my other pas­sion: flo­wers and plan­ts. I love them so much that I've rea­li­zed clo­thes with fabrics that repli­ca­te bota­ni­cal illu­stra­tions, the so-named Tex­ti­le Her­ba­rium". Dou­ble ori­gi­na­li­ty, that means exclu­si­vi­ty. A new Spring pro­ject is stric­tly con­nec­ted to this world, and we won't miss the news on our column…
SASSI ATELIER di ALESSANDRA BERARDI
Via Ber­thol­let 25/c
www.sassi.me
Insta­gram e Face­book