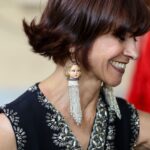 "Buttons! It all started with buttons. I used to find a lot of them in my mother's drawers. She was an embroiderer and since l was a little girl, I enjoyed going together with my father to the Balon (Flea Market in Turin) and buying buttons spending all my pocket money". The history of Paola Bellinzoni, jewelry designer and handcrafter, passionate about art, antiques and vintage tailoring, begins like a fairy tale. It's something magic entering her atelier in the Palazzo della Luce in Torino: a huge space dedicated to jewels, clothes, mirrors, "encrusted" photos, portraits decorated with bijoux and precious stones. This is her latest project, that should have been transformed in a very special exhibition open to the public, but, due to the pandemic, it's now "on pause" waiting for a better time.
Paola Bellinzoni, owning a master degree in Architecture, has been working for years as interior designer with a particular attention to the use of colors, in the meantime she keeps on creating handmade works with the same inexhaustible passion. "Since I was a student – Paola says – my classmates used to ask me to modify their clothes, make some new fittings. Now as then it happens to me to open a drawer, take a button, a lost object and, after a few tries, turn them into a jewel, a brooch, a pair of earrings, a necklace. Unique creations that, I must confess, I often struggle to give away."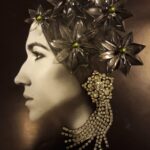 Everyday Paola's work is enriched by new components and different techniques, as the use of the two-component resin, exploited for a reinvention of styles with a special attention to the art déco.
A tireless research for Paola, who describes her strong-willed character in her own words: "At home I've always been the crazy horse, but, at the same time, I possess a great self-discipline, that I've acquired studying ballet for almost 16 years. This self-discipline allows me to try and try again until I reach the result I desire". With the same strong will she has worked for years as a teacher in fitness centers in order to finance her own degree in Architecture' "Then – she remembers – as it often happens in my life, my path turned with the choice to accept a job in a button factory (Buttons again!} in Piacenza, where I first met Franco Iacassi, one of the greatest button collectors   in the world, with whom a truly special collaboration was born. Franco gave me the permission to draw from his amazing archive and consequently I've had the opportunity to grow further in my own research of the Beauty through the handcraft".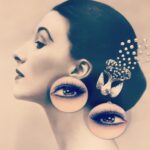 Paola knows it's a difficult work at this post-lockdown time: that's why she has decided, like plenty of her artisan colleagues, to rely on the Internet, in order to give visibility to her works: "I'll soon be on 'etsy.com, the website dedicated to the Italian Handcraft". But she doesn't give up new projects, for example reinventing some portraits by means of the "encrusted" technique, "a kind of studded, tridimensional embroidery", to wipe away "some vanity from the portraits".
"I hate trips ' Paola confesses – but actually I've always voyaged through my books, searching, learning and then trying to transform what I'd read in an object, with the help of my hands". Jewelry, Tailoring, Interior Design, should I have to choose one word to represent you… which one? Paola Bellinzoni has a quick glimpse all around her atelier, then, smiling, she says: "I'm an artisan".
Paola Bellinzoni
Showroom espositivo
Palazzo della Luce, Via Stampatori 18, Torino.
+39 348 4141 147
www.paolabellinzoni.it