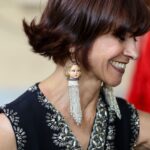 "But­tons! It all star­ted with but­tons. I used to find a lot of them in my mother's dra­wers. She was an embroi­de­rer and sin­ce l was a lit­tle girl, I enjoyed going toge­ther with my father to the Balon (Flea Mar­ket in Turin) and buy­ing but­tons spen­ding all my poc­ket money". The histo­ry of Pao­la Bel­lin­zo­ni, jewel­ry desi­gner and han­d­craf­ter, pas­sio­na­te about art, anti­ques and vin­ta­ge tai­lo­ring, begins like a fai­ry tale. It's some­thing magic ente­ring her ate­lier in the Palaz­zo del­la Luce in Tori­no: a huge spa­ce dedi­ca­ted to jewels, clo­thes, mir­rors, "encru­sted" pho­tos, por­trai­ts deco­ra­ted with bijoux and pre­cious sto­nes. This is her late­st pro­ject, that should have been tran­sfor­med in a very spe­cial exhi­bi­tion open to the public, but, due to the pan­de­mic, it's now "on pau­se" wai­ting for a bet­ter time.
Pao­la Bel­lin­zo­ni, owning a master degree in Archi­tec­tu­re, has been wor­king for years as inte­rior desi­gner with a par­ti­cu­lar atten­tion to the use of colors, in the mean­ti­me she keeps on crea­ting hand­ma­de works with the same inex­hau­sti­ble pas­sion. "Sin­ce I was a stu­dent – Pao­la says – my class­ma­tes used to ask me to modi­fy their clo­thes, make some new fit­tings. Now as then it hap­pens to me to open a dra­wer, take a but­ton, a lost object and, after a few tries, turn them into a jewel, a brooch, a pair of ear­rings, a nec­kla­ce. Uni­que crea­tions that, I must con­fess, I often strug­gle to give away."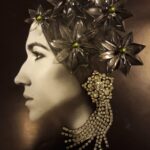 Eve­ry­day Paola's work is enri­ched by new com­po­nen­ts and dif­fe­rent tech­ni­ques, as the use of the two-com­po­nent resin, exploi­ted for a rein­ven­tion of sty­les with a spe­cial atten­tion to the art déco.
A tire­less research for Pao­la, who descri­bes her strong-wil­led cha­rac­ter in her own words: "At home I've always been the cra­zy hor­se, but, at the same time, I pos­sess a great self-disci­pli­ne, that I've acqui­red stu­dy­ing bal­let for almo­st 16 years. This self-disci­pli­ne allo­ws me to try and try again until I reach the result I desi­re". With the same strong will she has wor­ked for years as a tea­cher in fit­ness cen­ters in order to finan­ce her own degree in Archi­tec­tu­re' "Then – she remem­bers – as it often hap­pens in my life, my path tur­ned with the choi­ce to accept a job in a but­ton fac­to­ry (But­tons again!} in Pia­cen­za, whe­re I fir­st met Fran­co Iacas­si, one of the grea­te­st but­ton col­lec­tors in the world, with whom a tru­ly spe­cial col­la­bo­ra­tion was born. Fran­co gave me the per­mis­sion to draw from his ama­zing archi­ve and con­se­quen­tly I've had the oppor­tu­ni­ty to grow fur­ther in my own research of the Beau­ty throu­gh the handcraft".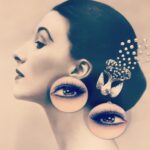 Pao­la kno­ws it's a dif­fi­cult work at this post-loc­k­do­wn time: that's why she has deci­ded, like plen­ty of her arti­san col­lea­gues, to rely on the Inter­net, in order to give visi­bi­li­ty to her works: "I'll soon be on 'etsy.com, the web­si­te dedi­ca­ted to the Ita­lian Han­d­craft". But she doesn't give up new pro­jec­ts, for exam­ple rein­ven­ting some por­trai­ts by means of the "encru­sted" tech­ni­que, "a kind of stud­ded, tri­di­men­sio­nal embroi­de­ry", to wipe away "some vani­ty from the portraits".
"I hate trips ' Pao­la con­fes­ses – but actual­ly I've always voya­ged throu­gh my books, sear­ching, lear­ning and then try­ing to tran­sform what I'd read in an object, with the help of my hands". Jewel­ry, Tai­lo­ring, Inte­rior Desi­gn, should I have to choo­se one word to repre­sent you… which one? Pao­la Bel­lin­zo­ni has a quick glimp­se all around her ate­lier, then, smi­ling, she says: "I'm an artisan".
Pao­la Bellinzoni
Sho­w­room espositivo
Palaz­zo del­la Luce, Via Stam­pa­to­ri 18, Torino.
+39 348 4141 147
www.paolabellinzoni.it