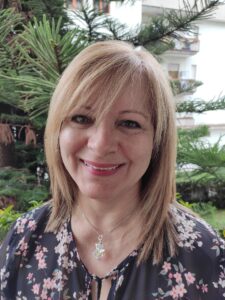 Hel­lo Gio­van­na! Approa­ching life always with a smi­le it's not easy and defi­ni­te­ly not everyone's pri­vi­le­ge. Thou­gh you have suc­cee­ded in recon­ci­ling your job with the dedi­ca­tion for your lar­ge fami­ly. Tell us, who are you? How could you make it?
I am Gio­van­na, mar­ried for 33 years with Mario and mother of three sons: Anto­nio, Ange­lo and Ales­sio, who are now gro­wn up. I've always loved han­di­craft and among my dai­ly com­mit­men­ts I've suc­cee­ded in cut­ting down some spa­ce for my creativity.
Tell us about this pas­sion of yours about arti­san­ship. How did you get acquain­ted to this fasci­na­ting, but highly chal­len­ging art, so pre­cious for the mate­rials it crafts?
The hand­ma­de pro­duc­ts, regard­less the intrin­sic value of the mate­rials, car­ry a great ener­gy due to all the pas­sion and love throu­gh which they are sha­ped. Tho­se who buy from an arti­san, do not only pur­cha­se an object, but also the dedi­ca­tion and the maste­ry having con­cur­red to its rea­li­za­tion. As regards myself, I've ever sin­ce been han­d­craf­ting, but recen­tly I have spe­cia­li­zed in crea­ting jewel­ry with angels.
Did your will of repre­sen­ting, com­mu­ni­ca­ting the angels' world stem from an extraor­di­na­ry inspiration?
This pas­sion was born by chan­ce… tru­ly nothing comes by chan­ce. Angels have always been impor­tant to me. I was at the sto­nes and acces­so­ri­zes sales stand in search of some­thing that could help me crea­ting an angel, when out of the blue I met a lady who intro­du­ced me to the art of com­po­sing an angel. At home I crea­ted my fir­st angel pendant.
Is each and eve­ry angel the bea­rer of a spe­cial mes­sa­ge? How do you trans­la­te this into the 'lan­gua­ge' of pre­cious stones?
Each crea­tion car­ries a mes­sa­ge that rea­ches the per­son who recei­ves it. Be they sto­nes, cry­stals, por­ce­lain or wood, I com­bi­ne them in order to give to each angel a pecu­liar signi­fi­can­ce. I stron­gly belie­ve in angels and they are besi­de us to yield their sup­port if we ask for it. Over the time I've had the respon­se that eve­ryo­ne who has hosted an angel, be it even only in form of an object, has recei­ved lovin­g­kind­ness. The 'lan­gua­ge' of pre­cious sto­nes? As an exam­ple, the Rose Quar­tz is a cry­stal that sin­ce ancient times has been reco­gni­zed as the love and sere­ni­ty sto­ne and the sel­fca­re symbol.
In one of the ima­ges a moon­sto­ne angel is depic­ted: this is tru­ly a ladies' crystal.

Who, what kind of peo­ple choo­se such a pre­cious gift and for what occasion?
More and more peo­ple are reque­sting my jewel­ry. My crea­tions are per­so­na­li­zed, throu­gh a pic­tu­res exchan­ge on Wha­tsApp, the angel is hand­ma­de just the way the client is wil­ling to recei­ve it in sha­pe, color and material.
For exam­ple, a per­son may pre­sent a friend with a rose quar­tz angel, so that she will recei­ve toge­ther with the jewel, also the ener­gy of the crystal.
Do you have a par­ti­cu­lar pro­ject, which is clo­ser to your heart and that you would like to rea­li­ze in the next year?
I have seve­ral pro­jec­ts for the futu­re… Among tho­se "Gli Ange­li di Giò", my col­lec­tion, will have more and more crea­tions to be offe­red: beyond jewel­ry, the­re will be many other ways to own and 'wear' an angel, be they clo­thing, bags or objec­ts. And in the futu­re, the­re will be also a holi­stic Asso­cia­tion, throu­gh which it will be pos­si­ble not only to explo­re "Gli Ange­li di Giò", but also eve­ry­thing con­cer­ning angels. A spe­cial venue will be dedi­ca­ted to women, becau­se in the near-futu­re plen­ty of femi­ni­ne ener­gy will be needed.