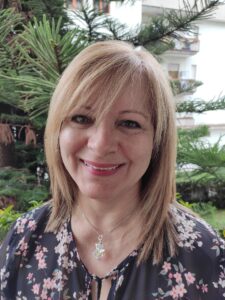 Hello Giovanna! Approaching life always with a smile it's not easy and definitely not everyone's privilege. Though you have succeeded in reconciling your job with the dedication for your large family. Tell us, who are you? How could you make it?
I am Giovanna, married for 33 years with Mario and mother of three sons: Antonio, Angelo and Alessio, who are now grown up. I've always loved handicraft and among my daily commitments I've succeeded in cutting down some space for my creativity.
Tell us about this passion of yours about artisanship. How did you get acquainted to this fascinating, but highly challenging art, so precious for the materials it crafts?
The handmade products, regardless the intrinsic value of the materials, carry a great energy due to all the passion and love through which they are shaped. Those who buy from an artisan, do not only purchase an object, but also the dedication and the mastery having concurred to its realization.  As regards myself, I've ever since been handcrafting, but recently I have specialized in creating jewelry with angels.
Did your will of representing, communicating the angels' world stem from an extraordinary inspiration?
This passion was born by chance… truly nothing comes by chance. Angels have always been important to me. I was at the stones and accessorizes sales stand in search of something that could help me creating an angel, when out of the blue I met a lady who introduced me to the art of composing an angel. At home I created my first angel pendant.
Is each and every angel the bearer of a special message? How do you translate this into the 'language' of precious stones?
Each creation carries a message that reaches the person who receives it. Be they stones, crystals, porcelain or wood, I combine them in order to give to each angel a peculiar significance. I strongly believe in angels and they are beside us to yield their support if we ask for it. Over the time I've had the response that everyone who has hosted an angel, be it even only in form of an object, has received lovingkindness. The 'language' of precious stones? As an example, the Rose Quartz is a crystal that since ancient times has been recognized as the love and serenity stone and the selfcare symbol.
In one of the images a moonstone angel is depicted: this is truly a ladies' crystal.

Who, what kind of people choose such a precious gift and for what occasion?
More and more people are requesting my jewelry. My creations are personalized, through a pictures exchange on WhatsApp, the angel is handmade just the way the client is willing to receive it in shape, color and material.
For example, a person may present a friend with a rose quartz angel, so that she will receive together with the jewel, also the energy of the crystal.
Do you have a particular project, which is closer to your heart and that you would like to realize in the next year?
I have several projects for the future… Among those "Gli Angeli di Giò", my collection, will have more and more creations to be offered: beyond jewelry, there will be many other ways to own and 'wear' an angel, be they clothing, bags or objects. And in the future, there will be also a holistic Association, through which it will be possible not only to explore "Gli Angeli di Giò", but also everything concerning angels. A special venue will be dedicated to women, because in the near-future plenty of feminine energy will be needed.