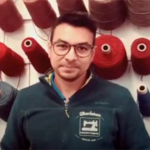 Very often in the artisans' lives there is a common element. A previous life, an earlier professional activity, followed by the landing to the world of "handicraft". This is the case of Alessio Davide Nigro, who, since 2005, still very young, became proudly "the carpet edger", the only one in Italy, after a period of practice in the food service where he had trained himself in managing customers' requests. Then a challenge fueled his purest passion. And here the story becomes truly particular and unique. For, who is a carpet edger? What does he make? He is an artisan, that looking at the past with a broad vision of the future, builds a successful present, super-specializing in edging carpets and rugs, an activity to which – thanks to his wife Carmen's help – he has then added the repair and restoration of all kinds of rugs, from the rarest to the more ordinary ones.
When we contact him for the interview, he is in Paris to edge the runners in the Gucci stores. And talking to him we discover that also brands of luxury yachting like Azimuth and Ferretti or privates and architects in Côte d'Azur, London, Turkey take advantage of his professionalism in the choice of upholstery and in the application of the renowned edges. These edges, that are not a simple finish, as one could imagine, but a true "ne plus ultra" in technique and materials that makes the difference. And they are extraordinarily all "made in Italy", or better "made in Turin".
In his workshop in via Sant'Ambrogio he tells us about the handmade preparation and the mechanical finishing with portable equipment, which allows him to execute the work directly on site. He literally wears the machines out. He tells us about the various styles of edges, as well as the evolution in the carpet choice. Quality is of the essence.
Alessio has never been affected by crisis, although he remains humble and trustworthy. He loves travelling and this job-passion lets him do it. I ask him some "numbers" to better visualize his edges: 2/3 km are needed for a hotel. Or even a 5-floor winding staircase with non-standard pieces and the necessity to line up the graphic design.
Chapeau!
Il Bordatore
Laboratorio
Via Sant'Ambrogio 27 – Torino
www.ilbordatore.it