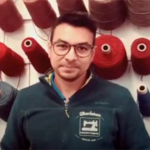 Very often in the arti­sans' lives the­re is a com­mon ele­ment. A pre­vious life, an ear­lier pro­fes­sio­nal acti­vi­ty, fol­lo­wed by the lan­ding to the world of "han­di­craft". This is the case of Ales­sio Davi­de Nigro, who, sin­ce 2005, still very young, beca­me proud­ly "the car­pet edger", the only one in Ita­ly, after a period of prac­ti­ce in the food ser­vi­ce whe­re he had trai­ned him­self in mana­ging custo­mers' requests. Then a chal­len­ge fue­led his pure­st pas­sion. And here the sto­ry beco­mes tru­ly par­ti­cu­lar and uni­que. For, who is a car­pet edger? What does he make? He is an arti­san, that loo­king at the past with a broad vision of the futu­re, builds a suc­ces­sful pre­sent, super-spe­cia­li­zing in edging car­pe­ts and rugs, an acti­vi­ty to which – thanks to his wife Carmen's help – he has then added the repair and resto­ra­tion of all kinds of rugs, from the rare­st to the more ordi­na­ry ones.
When we con­tact him for the inter­view, he is in Paris to edge the run­ners in the Guc­ci sto­res. And tal­king to him we disco­ver that also brands of luxu­ry yach­ting like Azi­muth and Fer­ret­ti or pri­va­tes and archi­tec­ts in Côte d'Azur, Lon­don, Tur­key take advan­ta­ge of his pro­fes­sio­na­li­sm in the choi­ce of uphol­ste­ry and in the appli­ca­tion of the reno­w­ned edges. The­se edges, that are not a sim­ple finish, as one could ima­gi­ne, but a true "ne plus ultra" in tech­ni­que and mate­rials that makes the dif­fe­ren­ce. And they are extraor­di­na­ri­ly all "made in Ita­ly", or bet­ter "made in Turin".
In his work­shop in via Sant'Ambrogio he tells us about the hand­ma­de pre­pa­ra­tion and the mecha­ni­cal fini­shing with por­ta­ble equi­p­ment, which allo­ws him to exe­cu­te the work direc­tly on site. He lite­ral­ly wears the machi­nes out. He tells us about the various sty­les of edges, as well as the evo­lu­tion in the car­pet choi­ce. Qua­li­ty is of the essence.
Ales­sio has never been affec­ted by cri­sis, althou­gh he remains hum­ble and tru­st­wor­thy. He loves tra­vel­ling and this job-pas­sion lets him do it. I ask him some "num­bers" to bet­ter visua­li­ze his edges: 2/3 km are nee­ded for a hotel. Or even a 5‑floor win­ding stair­ca­se with non-stan­dard pie­ces and the neces­si­ty to line up the gra­phic design.
Cha­peau!
Il Bor­da­to­re
Laboratorio
Via San­t'Am­bro­gio 27 – Torino
www.ilbordatore.it