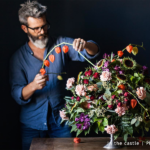 David Zon­ta, born in Ver­ba­nia, on the sho­res of the ver­dant Lake Mag­gio­re, to a fami­ly of flo­ri­cul­tu­rists, could have taken two paths: to get sick of plan­ts and gree­n­hou­ses or keep on wor­king in that field, instil­ling a tru­ly per­so­nal cha­rac­ter to his job and his life. Defi­ni­te­ly he opted for the second choi­ce and when we meet him, this Gar­den and Flo­ral Desi­gner, also edi­tor of a column enti­tled "Stro­pic­cia­to come un Tuli­pa­no" on La Stam­pa, we come face to face with a beau­ti­ful per­son, who has tran­sfor­med his pas­sion for gree­ne­ry, and its thou­sands of varian­ts, in a key for both gai­ning a per­so­nal gra­ti­fi­ca­tion and fin­ding a balan­ce with the world. "Sin­ce I was a child my father had taught me to reco­gni­ze the plan­ts, invi­ting me to look care­ful­ly at them. Now I rea­li­ze that it's my new sight, that makes the dif­fe­ren­ce in this field. Lit­tle by lit­tle, I desi­red to go in depth and atten­ded dif­fe­rent clas­ses even about cut-flo­wers. I have obtai­ned the Euro­pean flo­ri­st diplo­ma, then the Flo­ral Desi­gner one.
Plun­ged in so much beau­ty I deci­ded to return some beau­ty to my nei­gh­bors, throu­gh the aware­ness of a life whe­re natu­re is a fai­th­ful and reas­su­ring com­pa­nion". Tal­king about the well­ness that natu­re inspi­res may seem a deple­ted mis­sion, but for David Zon­ta the­re is abso­lu­te sin­ce­ri­ty and authen­ti­ci­ty. He is now enga­ged on seve­ral fron­ts. He disen­ga­ged of the con­strain­ts of a shop in order to be able to work free­ly, often­ti­mes with the inspi­red com­pli­ci­ty of his wife Ele­na Patris, who is a psychologist.
David desi­gns and hand makes flo­ral arran­ge­men­ts for indoors and out­doors, tru­ly uni­que works, almo­st kids to him: he pro­mo­tes clas­ses and work­shops for pri­va­tes, pro­fes­sio­nals and also at school for talen­ted chil­dren. As gree­ne­ry enhan­ces a fee­ling of well­ness that has no limi­ts. You only need to regain or empo­wer your sight, make it curios and prompt to cap­tu­re the mar­vels of natu­re, that are always the­re for everyone.
David goes far beyond the descrip­tions and the flo­wers bota­ni­cal cha­rac­te­ri­stics. Undoub­ted­ly, he sho­ws com­pe­ten­cy and skill, but ove­rall, he has the gift to intro­du­ce his coun­ter­parts into an extraor­di­na­ry mix­tu­re of an ancient work toge­ther with all the pos­si­ble decli­na­tions of the con­tem­po­ra­ry world. In the end, the search for hap­pi­ness stands in the atten­ti­ve obser­va­tion of the beau­ty gene­ra­ted by respect.
It's not a tric­ky notion, it's dif­fi­cult to put it into prac­ti­ce without being over­whel­med by the anxie­ties and dai­ly wor­ries. But David can mana­ge it and eager­ly speaks about the pro­ject that he and his wife have con­cei­ved "Land Art Lab", a con­tai­ner whe­re the main cha­rac­ter is the gree­ne­ry inten­ded to enhan­ce the qua­li­ty of spa­ces and human rela­tion­ships, inclu­ding work envi­ron­men­ts. He is enthu­sia­stic when he tells us the crea­tion of a ter­ra­ce at the Regi­na Mar­ghe­ri­ta Hospi­tal Fir­st Aid: a green relax area rea­li­zed thanks to the con­tri­bu­tion of the Albe­ro Gemel­lo Foundation.
Being rege­ne­ra­ted by gree­ne­ry (also by the for­got­ten one, as he says) and beco­ming accu­sto­med to a sight which prio­ri­ti­zes the posi­ti­ve side and the beau­ty in eve­ry aspect of life: this is the reci­pe to reco­ver, from within our­sel­ves, pre­cious sparks of crea­ti­vi­ty and enchant­ment. This is equal­ly true in one's pri­va­te as well as work life. And an ally, seve­ral adven­tu­re com­pa­nions, David ensu­res us, do exi­st in natu­re. We just have to disco­ver them throu­gh new eyes.
FLORAL & GARDEN DESIGNER DAVID ZONTA
https://www.davidzonta.com
info@davidzonta.com
Tel – 3358168204