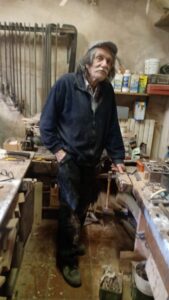 We are still in Borgo Campidoglio:  the center of our website not only for historic reasons  but also because of the importance in the artisanal world. One of the historical figure is Arch. Carlo Zanella that we meet  in his restoration laboratory. 
He used to split his life between Torino and Nicaragua. In Nicaragua he created a NGO in the Seventies with the goal of creating important works such as a building completely made of wood that now operates as  a hotel and many more with the help of local artisans. In  Nicaragua he also me his wife that now is helping him in his lab.
Trips back and forth between Torino and Nicaragua continued until 1984, thanks to an always intense  demand of projects. Once he closed his chapter in Nicaragua, he took a qualified course in Switzerland about recovery and restoration of old beams that didn't exists in Italy. He started in Porta Palazzo in 1993,  then he moved his laboratory in Borgo Campidoglio helping with the launch and the development of the area.

"To  help this project to take off we need 3 things"  is telling us Carlo Zanella: " First of all we need  rules in this  area that allowed the use of the main floor of all the small houses  to be used as laboratories for artistic, cultural or artisanal purposes. Second we need financial incentives for the artisans (such as exemption to pay some taxes) and in the end we need real visibility of what is happening in this area. I am  working hard for this neighborhood because it can become a turistic attraction despite its humble origins."
In his laboratory we are surrounded by all kind of furniture.
"Together with my wife, we repair and restore all the furniture our clients bring us but we also do works off our premises such as doors of churches especially near Casale."
The restorer does not have rules but needs to have knowledge, experience and sensibility knowing the period and the history of the furniture he is working on. 
The techniques are always the same: the one that Carlo likes better is shellac because of the particular patina and the oils that are still used. The periods he likes better are Charles X, Liberty and Art Deco but not too  ornate". We can see a beautiful example in the background.
LABORATORIO DI RESTAURO ZANELLA
Via Fiano 14 – Borgo Campidoglio Torino
Tel. 355363020
zanelcarlo@libero.it
www.zanellarestauri.it