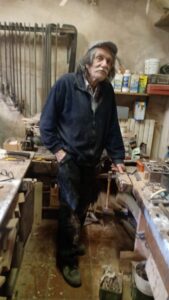 We are still in Bor­go Cam­pi­do­glio: the cen­ter of our web­si­te not only for histo­ric rea­sons but also becau­se of the impor­tan­ce in the arti­sa­nal world. One of the histo­ri­cal figu­re is Arch. Car­lo Zanel­la that we meet in his resto­ra­tion laboratory.
He used to split his life bet­ween Tori­no and Nica­ra­gua. In Nica­ra­gua he crea­ted a NGO in the Seven­ties with the goal of crea­ting impor­tant works such as a buil­ding com­ple­te­ly made of wood that now ope­ra­tes as a hotel and many more with the help of local arti­sans. In Nica­ra­gua he also me his wife that now is hel­ping him in his lab.
Trips back and forth bet­ween Tori­no and Nica­ra­gua con­ti­nued until 1984, thanks to an always inten­se demand of pro­jec­ts. Once he clo­sed his chap­ter in Nica­ra­gua, he took a qua­li­fied cour­se in Swi­tzer­land about reco­ve­ry and resto­ra­tion of old beams that didn't exists in Ita­ly. He star­ted in Por­ta Palaz­zo in 1993, then he moved his labo­ra­to­ry in Bor­go Cam­pi­do­glio hel­ping with the launch and the deve­lo­p­ment of the area.

"To help this pro­ject to take off we need 3 things" is tel­ling us Car­lo Zanel­la: " Fir­st of all we need rules in this area that allo­wed the use of the main floor of all the small hou­ses to be used as labo­ra­to­ries for arti­stic, cul­tu­ral or arti­sa­nal pur­po­ses. Second we need finan­cial incen­ti­ves for the arti­sans (such as exemp­tion to pay some taxes) and in the end we need real visi­bi­li­ty of what is hap­pe­ning in this area. I am wor­king hard for this nei­gh­bo­rhood becau­se it can beco­me a turi­stic attrac­tion despi­te its hum­ble origins."
In his labo­ra­to­ry we are sur­roun­ded by all kind of furniture.
"Toge­ther with my wife, we repair and resto­re all the fur­ni­tu­re our clien­ts bring us but we also do works off our pre­mi­ses such as doors of chur­ches espe­cial­ly near Casale."
The resto­rer does not have rules but needs to have kno­w­led­ge, expe­rien­ce and sen­si­bi­li­ty kno­wing the period and the histo­ry of the fur­ni­tu­re he is wor­king on.
The tech­ni­ques are always the same: the one that Car­lo likes bet­ter is shel­lac becau­se of the par­ti­cu­lar pati­na and the oils that are still used. The periods he likes bet­ter are Char­les X, Liber­ty and Art Deco but not too orna­te". We can see a beau­ti­ful exam­ple in the background.
LABORATORIO DI RESTAURO ZANELLA
Via Fia­no 14 – Bor­go Cam­pi­do­glio Torino
Tel. 355363020
zanelcarlo@libero.it
www.zanellarestauri.it