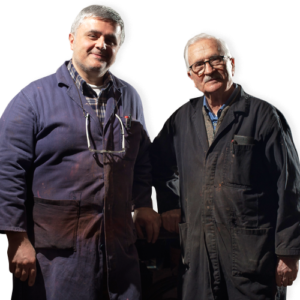 Far befo­re que­stio­ning the arti­san who works in via Bava, we are at once asto­ni­shed by the display of sam­ples and works, a varie­ty of magni­fi­cent wrought iron crea­tions, whe­re indeed our sight indul­ges on the minu­te­st details. Althou­gh the Voca­tu­ri family's heart – Arman­do, the father, iro­n­work master and Enri­co, the son who today proud­ly con­ti­nues the lega­cy – is the work­shop at the back of the cour­tyard. Lots of arti­sans in Tori­no have been wor­king in the cour­tyards of dif­fe­rent borou­ghs of the city.
Arman­do and Enri­co tell us that once each door­way facing their cour­tyard, now clo­sed and tur­ned into a resi­den­ce, cor­re­spon­ded to a work­shop, a han­d­craft, a sto­ry. And how beau­ti­ful it should have been! They with­stood the chan­ge, also becau­se they have part­ne­red for very impor­tant com­mit­men­ts which allo­wed them to be num­be­red among the most valiant "Masters in Han­di­craft". Whi­le he is spea­king, Enri­co gives us a copy of the book dedi­ca­ted to his father's life, in which the sto­ry of Arman­do is set within the fra­mework of the Ita­lian histo­ry from 1930 until nowadays.
A book that could be use­ful for young stu­den­ts in order to under­stand the efforts and deter­mi­na­tion nee­ded to accom­plish a job sup­por­ted also by the strong inhe­ri­tan­ce of Cala­bria, Armando's land of ori­gin of which he is most proud. ("Some roo­ts are neces­sa­ry" – he sta­tes). Seve­ral jobs sin­ce he was a kid in a big fami­ly, the dif­fi­cul­ties of moving to Tori­no, the diso­rien­ta­tion, but then the love of his life, his wife, his sons and an inde­pen­dent job, that thanks to his reco­gni­zed maste­ry, brought him to work for most and most impor­tant com­mis­sio­ners. Among them Accor­si, cur­ren­tly the most reno­w­ned and valued antiquarian.
Wor­king for him, being part of his team means to deli­ver high qua­li­ty craft­man­ship to clien­ts who can distin­guish the beau­ti­ful from the ordi­na­ry. And this is Armando's added value, as he has always been per­so­nal­ly caring for the work­shop pro­duc­tion (wha­te­ver the cir­cum­stan­ces) and he has always had an inna­te year­ning, a gen­tle­ness in for­ging, the "plus" which makes the dif­fe­ren­ce and stands out.
The list of the pri­va­te and public works is real­ly long, like­ly wide is the ran­ge of pie­ces and crea­tions pro­du­ced (chan­de­liers, wall lamps, rai­lings, recon­struc­tions and resto­ra­tions, pots, lan­terns, tables, chairs, fruit trees and baske­ts of still life that seem real). Their pic­tu­res are more elo­quent than words. Excel­len­ce lies in the fini­shes, the details, but also in the per­fect desi­gn. And the tech­ni­que, the hand motion remains unchan­ged over time. It is a heart-war­ming plea­su­re to watch them wor­king at the for­ge. Enri­co is enthu­sia­stic as he joy­ful­ly col­lec­ts a pre­cious wealth of expe­rien­ce adding his talent and the gene­rous intent to coa­le­sce the arti­sans and sup­port the young appren­ti­ces throu­gh the pro­ject "school-work­shop". He thus invests for the futu­re, in order to ensu­re oppor­tu­ni­ties, nothing being left behind. Let's tru­st and sup­port him!
VOCATURI L'ARTE DEL FERRO BATTUTO
Via Euse­bio Bava 5 – Torino
Tel. 011/882239
www.vocaturiartedelferro.com
info@vocaturiartedelferro.it