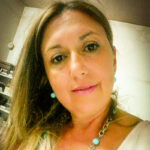 Rober­ta and Cri­sti­na Tar­si­ta­no, two arti­san sisters, jewel­ry crea­tors and gold­smi­ths, are the pro­ta­go­nists of our new Post­card. It's under their name an enter­pri­se that was born seve­ral years ago bet­ween Ita­ly and US.
It's a "pre­cious" inhe­ri­tan­ce", the one your father had left you. Rober­ta, Cri­sti­na are you a "living legacy"?
Yes! – Rober­ta con­firms – I have always been fasci­na­ted by my father's abi­li­ty; I lear­ned a lot by him.
He fir­st left for New York City whe­re he did his appren­ti­ce­ship in a few work­shops, befo­re star­ting his career at Har­ry Win­ston. In 1967 he went back to Ita­ly, in Rome, whe­re he wor­ked for Bul­ga­ri, but the fol­lo­wing year he was again at Har­ry Win­ston in the Big Apple.
Were you and your sister born in that period?
Yes, and we have been living in New York until 1973.
Then a fee­ling of home­sic­k­ness led your father and the fami­ly back to Fagna­no Castello.
We sai­led on the liner Raf­fael­lo, an unfor­get­ta­ble trip, and we spent a year in Ita­ly. Then we came back to NYC, whe­re we stayed until 1975, when the deci­sion came to set­tle in Ita­ly due to the birth of our youn­ger sister, Anna Maria. In 1979 my father ope­ned his own work­shop, Osval­do Tar­si­ta­no Gold­smith, but he kept on tra­vel­ling to US and also Brazil.
The expe­rien­ce in Bra­zil was uni­que, did you go with him?
Sure, I was always rea­dy to lea­ve with him. In Bra­zil he brought me to some gems mines, whe­re he used to choo­se and buy the most par­ti­cu­lar and pre­cious sto­nes. I always remem­ber his words: "What you can learn by tra­vel­ling, you will not find in books!" Then the can­cer. He left us alo­ne: my mother with a six-month child (Fran­ce­sca), I and my one-month daughter and my sisters.
And you took a bra­ve deci­sion, didn't you?
We wished to con­ti­nue what my father had crea­ted: it was by then a fami­ly tra­di­tion. With my sister Cri­sti­na we named the work­shop TARSITANO GOLDSMITHS.
What are the secre­ts for a per­fect jewel?
Put your pas­sion into it, craft the metals throu­gh love, give life to the creation.
What par­ti­cu­lar care do you have in the gems' choice?
All sto­nes have some­thing magic. Dia­monds are the top choi­ce, of cour­se, but the semi­pre­cious sto­nes, the colo­red ones like topaz, ame­thysts, aqua­ma­ri­nes and also tour­ma­li­nes make the jewel a uni­que creation.
About novel­ty: what are your characteristics?
I am the most clas­si­cal one, my sister is more whim­si­cal. The resul­ts are seve­ral lit­tle chef d'oeuvres.
Rober­ta, you went back to New York City two years ago: was it a deci­sion con­se­quent to a temp­ting job offer?
I met an old friend of my father. He appre­cia­ted my works and then he invi­ted me to work for his Com­pa­ny, the Tana­gro Jewel­ry in New York.
Your sister Cri­sti­na, has she deci­ded to stay in Italy?
Yes, but we are always in touch, cros­sing our experiences.
Ali­ke all the arti­sans you have suf­fe­red serious con­se­quen­ces of the pan­de­mic. How have you faced them?
In New York and in the US we had major impli­ca­tions. In Ita­ly, espe­cial­ly in the South, this branch of han­di­craft had endu­red a decli­ne. It has always been hard to pri­vi­le­ge crea­ti­vi­ty over merchantability.
I got to know about a mate­rial that can help with the mer­chan­ta­bi­li­ty issue. What is it and how do you exploit it?
Tel­ling the truth the idea came from my sister Cri­sti­na, she gave me the neces­sa­ry indi­ca­tions for an unu­sual mate­rial: paper. During the pan­de­mic I have begun to expe­ri­ment with it and crea­te some pie­ces, recy­cling shee­ts of papers that I was kee­ping at home and assem­bling them toge­ther with non-pre­cious mate­rials. This way I gave life to my eco­lo­gi­cal recy­cling pro­ject, that hel­ped me to enhan­ce my crea­ti­vi­ty. The result has been the line ROBY'S PAPER GEMS, onli­ne distri­bu­ted by Etsy US.
What are your pro­jec­ts for the futu­re, may­be a dream?
I'd love to build an ideal brid­ge joi­ning New York and Fagna­no Castel­lo to keep ali­ve that fami­ly tra­di­tion which has a beau­ti­ful sto­ry to tell throu­gh its creations.
ARTE ORAFA TARSITANO
https://www.facebook.com/Arte-Orafa-Tarsitano-810864368999422/
ROBY'S PAPER GEMS
https://www.etsy.com/shop/robyspapergems/