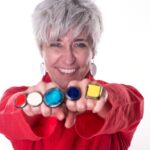 Crossing the threshold of her workshop appears like plunging into an enchanted world, where numberless colors embellish the most curious objects.  The location isn't huge, therefore it's a true pleasure to indulge your own curiosity and discover, one by one, every single piece created by Stefania's hands.
Stefania smiles and it's clear to us that she is rewarded for her work. She is a woman who has been able to find her way both in life and in work. This is an artisans' prerogative: life and work often coincide. An enviable privilege!
But let's go back to our ceramist, who opened her workshop in 2015, after working a few years as an administrative employee for a real estate company. Then, while visiting a fair booth she experienced a brainwave, she turned her life around: a lesson to get the basics and the kickstart to what is now her present and she proudly wants to be her future. Stefania works with clay, shapes it then she proceeds with the drying and cooking in order to obtain terracotta. It's the enamel that changes the terracotta into ceramic. Technical sections refined by experience. But what are the preferred objects? The colorful, amazing jewelry, home accessories as unusual, original lamps and decorative wall panels. Everything is attainable, because each piece is unique and Stefania can also create on commission.
If you quickly look around in the workshop a certain prevalence of fish and animal subjects leaps to the eye. But also, buttons and wonderful cufflinks, upstream wedding favors. A mainstream is evident: a taste for color in every shades. And that's a turnover for a lady who used to wear "black" and "blue" only. Still she reveals to us that through this work she has re-discovered her sense of touch, she has learned how to master it. She "feels" every object better through her hands, even the ones not made by herself.
Thereby the tactile vision is the one expressing the content. She sees by her touch and through her imagination she models the clay. She has no favorite pieces. Every work stems from her creativity and progresses along the magical pathway connecting heart, brain and hands.
Stefania Mairano Creazioni in Ceramica
Via Amedeo Peyron, 50 – 10143 Torino
Telefono: 349 771 6690
www.stefaniamairano.it
info@stefaniamairano.it