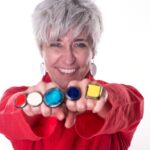 Cros­sing the thre­shold of her work­shop appears like plun­ging into an enchan­ted world, whe­re num­ber­less colors embel­lish the most curious objec­ts. The loca­tion isn't huge, the­re­fo­re it's a true plea­su­re to indul­ge your own curio­si­ty and disco­ver, one by one, eve­ry sin­gle pie­ce crea­ted by Stefania's hands.
Ste­fa­nia smi­les and it's clear to us that she is rewar­ded for her work. She is a woman who has been able to find her way both in life and in work. This is an arti­sans' pre­ro­ga­ti­ve: life and work often coin­ci­de. An envia­ble privilege!
But let's go back to our cera­mi­st, who ope­ned her work­shop in 2015, after wor­king a few years as an admi­ni­stra­ti­ve employee for a real esta­te com­pa­ny. Then, whi­le visi­ting a fair booth she expe­rien­ced a brai­n­wa­ve, she tur­ned her life around: a les­son to get the basics and the kick­start to what is now her pre­sent and she proud­ly wan­ts to be her futu­re. Ste­fa­nia works with clay, sha­pes it then she pro­ceeds with the dry­ing and coo­king in order to obtain ter­ra­cot­ta. It's the ena­mel that chan­ges the ter­ra­cot­ta into cera­mic. Tech­ni­cal sec­tions refi­ned by expe­rien­ce. But what are the pre­fer­red objec­ts? The color­ful, ama­zing jewel­ry, home acces­so­ries as unu­sual, ori­gi­nal lamps and deco­ra­ti­ve wall panels. Eve­ry­thing is attai­na­ble, becau­se each pie­ce is uni­que and Ste­fa­nia can also crea­te on commission.
If you quic­kly look around in the work­shop a cer­tain pre­va­len­ce of fish and ani­mal sub­jec­ts leaps to the eye. But also, but­tons and won­der­ful cuf­flinks, upstream wed­ding favors. A main­stream is evi­dent: a taste for color in eve­ry sha­des. And that's a tur­no­ver for a lady who used to wear "black" and "blue" only. Still she reveals to us that throu­gh this work she has re-disco­ve­red her sen­se of touch, she has lear­ned how to master it. She "feels" eve­ry object bet­ter throu­gh her hands, even the ones not made by herself.
The­re­by the tac­ti­le vision is the one expres­sing the con­tent. She sees by her touch and throu­gh her ima­gi­na­tion she models the clay. She has no favo­ri­te pie­ces. Eve­ry work stems from her crea­ti­vi­ty and pro­gres­ses along the magi­cal path­way con­nec­ting heart, brain and hands.
Ste­fa­nia Mai­ra­no Crea­zio­ni in Ceramica
Via Ame­deo Pey­ron, 50 – 10143 Torino
Tele­fo­no: 349 771 6690
www.stefaniamairano.it
info@stefaniamairano.it