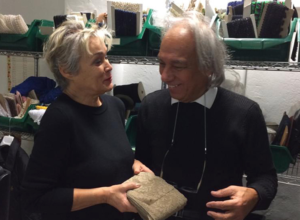 If there is a field where competition and contamination, even at international level, are high, tastes change, brands rapidly emerge and decay and the financial crisis abruptly hits, then, this is the field of fashion. But this is also the range that fascinates and ''dresses our personality with an imperative second skin that represents us. Within these boundaries, choosing for 40 years the truly Italian quality becomes a courage, defiance, coherence and creativity act.
This is the message we perceive upon entering the showroom/workshop of Antonio Creaco, founder of the brand Bugiarda By di Lu', complete women's total look. "Since childhood I've always enjoyed a strong passion for the aesthetics of beauty in clothing. I would endure whatever sacrifice in order to wear custom-made shirts. This inclination to the beautiful has easily brought me to work firstly as salesman, then led me to the choice of designing and producing clothes on my own."
Since then two "ready and programmed" collections a year (or proposals for the ongoing season) together with two launches of a few anticipatory models in the intermediate seasons have been created in a tailoring style. The brand is distributed through medium to high level retailers in northern Italy and as far as Tuscany and Cote d'Azur. Loyal customers with whom Antonio holds a tight connection since every cloth is customized for the client. This is the artisanship of his tailoring workshop, where serial production doesn't exist, but on the contrary personalization is maximized. "My style is a modernized, timeless classic, that overcomes the fashion transience and encounters its own peculiarity".

And remaining in his laboratory, besides the Italian seamstresses, among his fabrics, the paper patterns and the hanging dresses we understand the added values of the brand: the quality of Italian made fabrics, a painstaking attention to details that transforms a standardized assembly in a unique and exclusive manufacture, the maximum versatility which allows infinite variations and modifications to the basic outfit, the taste for color declined into a truly gifted and modern chromatic coordination, the harmonious proportions stemming from a solid foundation.
Bugiarda by Di Lu' means all this and a lot more. Antonio avails himself of his wife Magda Cresto's assistance: she takes care of the customers' requests and communication. Both are concerned for the current crisis and complain about a lack of interest of the Institutions as concerns the fashion business, that represents an important sector of our economy: "We are heading towards a definite scaling-down, which will be marking a clear distinction between low and medium/high quality products. The intermediate production layer will therefore be missing due to a forced selection. Nobody safeguards the local creative handiwork. A strong political support is missing, every day we have to accomplish bureaucratic formalities detracting time to our work."
We are sorry to gather such bitterness from those who for years have been working with commitment to beauty. And so, we revert to the par excellence preferred cloth: "We are clever in making the outwear, the blazer and a thousand versions of the jacket. That's where the craftmanship and expertise in harmonizing proportions is shown. A finished cloth implies infinite adjustments."
Bugiarda By Di Lu'
Via Exilles 67 – TORINO
Tel. 011/70748820 – 347/7725139
Dilu.srl@libero.it