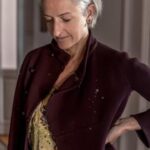 At some point in life the moment arri­ves for a tur­no­ver, either due to rea­sons beyond our con­trol or as a result of an inten­ded inner jour­ney. A tur­no­ver that makes us con­si­der ful­fil­led all our expe­rien­ces to that very point. Perhaps we still do not know what we want to do next, but we are aware that we want to chan­ge. This is the way the tur­no­ver of Pao­la Pel­li­no, the "War­dro­be Lady", has started.
"My mother was a seam­stress – Pao­la says – I've always lived in a world of high-qua­li­ty fabrics, hau­te cou­tu­re. As a girl I was very keen on fashion: it was the '80s and '90s, a period of great inspi­ra­tion and also a tran­si­tion in this sec­tor. I was also pas­sio­na­te about tra­vel­ling and, for a whi­le, after com­ple­ting my stu­dies, I've wor­ked in a tra­vel agen­cy. My love for fashion came back the­reaf­ter, and, for a short period, I wor­ked as a sales agent, always in char­ge of pecu­liar clo­thing. The busi­ness side of fashion, althou­gh, has never been my favo­ri­te one, I'm not a cle­ver sale­swo­man, I'd bet­ter to defi­ne myself as a sto­ry­tel­ler, nar­ra­ting the fabrics stories."
Ten years of acti­vi­ty in a reno­wn clo­thing sto­re in Tori­no fol­lo­wed, then "four years ago I under­went my cri­sis, sin­ce I was not sati­sfied of what I was doing, I nee­ded to wrap up my expe­rien­ce and I deci­ded to quit, without having a via­ble alter­na­ti­ve yet. I took some time, that was very wor­th­whi­le, but very hard, too. I've got to tra­vel again and in that very year in Paris I've had the oppor­tu­ni­ty to meet a tai­lor who used to do evi­dent men­ding: Tom of Hol­land. It was fan­ta­stic, just like a true eye-ope­ning for me. After this for­tu­na­te mee­ting, I've invi­ted him in Tori­no to watch him work, to learn from him. We've done a work­shop toge­ther. Later on, I've atten­ded some other clas­ses in England, not with him althou­gh and he has remai­ned my sour­ce of inspiration."
Here begins Paola's new job, the "War­dro­be Lady" comes to life. Why have you cho­sen this name? "The war­dro­be woman was a figu­re that exi­sted in the past cen­tu­ry, in the high bourgeoise's pri­va­te homes, she used to care the per­so­nal clo­thing of the masters. I was attrac­ted by this character's efforts to main­tain in life clo­thing as much as she could."
Pao­la Pel­li­no starts atten­ding in pre­sen­ce clas­ses, col­la­bo­ra­ting with "Fashion Revo­lu­tion", a move­ment foun­ded in England inten­ded to draw atten­tion to glo­bal sustai­na­bi­li­ty, not only with regards to mate­rials, but also to the social aspect, for exam­ple the defen­se of exploi­ted wor­kers employed to pro­du­ce low-cost appa­rels. "I've began to hoard yarns, fabrics and I rea­li­zed that this mes­sa­ge has its appeal: taking care of what we own, try­ing to valo­ri­ze some­thing that no lon­ger had a worth. A rui­ned swea­ter, some rip­ped jeans, or a cushion, an arm­chair or a bag: the­se are all objec­ts that can come to a new life".
"But my thought is – she con­ti­nues – that dar­ning must be visi­ble. I adopt the tra­di­tio­nal men­ding tech­ni­ques, using diver­se threads and colors, com­ple­te­ly renewing some­thing that would have been thro­wn away". Among Paola's com­mit­men­ts the­re is also a class of "crea­ti­ve dar­ning" at the IED. "Young stu­den­ts yield the highe­st sati­sfac­tions, sin­ce it's impor­tant to revert to hand wor­king. It's heart­war­ming to see 20 years old youth who pas­sio­na­te about this job. And it's not only girls whom I'm tal­king about. At the last IED class four boys sat at the last row on the fir­st les­son, at the second les­son they sat in the midd­le, and at the end they were at the fir­st row. All fasci­na­ted by this art."
In this pan­de­mic, clas­ses are onli­ne "on Satur­days' and I get a lot of requests, also becau­se I can reach more peo­ple than I could have hosted in my in-pre­sen­ce clas­ses. Plen­ty of peo­ple have never used a need­le and then they get pas­sio­na­te about it. Hand­work can be almo­st a form of medi­ta­tion, of relax". "Clas­ses are not cro­w­ded – Pao­la Pel­li­no adds – I'd bet­ter crea­te a rela­tion­ship with tho­se peo­ple, who often return".
An ancient world, but some­how a new world, that can also offer pro­fes­sio­nal oppor­tu­ni­ties; "the­re always will be some­thing to mend, becau­se things are used and con­su­med. In my opi­nion the pre­sent con­cept in view of sustai­na­bi­li­ty, recy­cling, pro­du­cing less gar­ba­ge with less envi­ron­men­tal impact, are the­mes that cap­tu­re youth's atten­tion. May­be crea­ting col­lec­tion of retrie­ved dres­ses. There's a lot to do in this field. This is a par­ti­cu­lar moment, under many aspec­ts, a moment in which we often need to rein­vent". Pao­la Pel­li­no con­clu­des with a smi­le: "If I look bac­k­ward to the­se last four years, I can say I did it!".