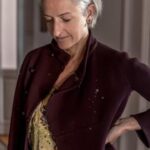 At some point in life the moment arrives for a turnover, either due to reasons beyond our control or as a result of an intended inner journey. A turnover that makes us consider fulfilled all our experiences to that very point. Perhaps we still do not know what we want to do next, but we are aware that we want to change. This is the way the turnover of Paola Pellino, the "Wardrobe Lady", has started.
 "My mother was a seamstress – Paola says – I've always lived in a world of high-quality fabrics, haute couture. As a girl I was very keen on fashion: it was the '80s and '90s, a period of great inspiration and also a transition in this sector. I was also passionate about travelling and, for a while, after completing my studies, I've worked in a travel agency. My love for fashion came back thereafter, and, for a short period, I worked as a sales agent, always in charge of peculiar clothing. The business side of fashion, although, has never been my favorite one, I'm not a clever saleswoman, I'd better to define myself as a storyteller, narrating the fabrics stories." 
Ten years of activity in a renown clothing store in Torino followed, then "four years ago I underwent my crisis, since I was not satisfied of what I was doing, I needed to wrap up my experience and I decided to quit, without having a viable alternative yet. I took some time, that was very worthwhile, but very hard, too. I've got to travel again and in that very year in Paris I've had the opportunity to meet a tailor who used to do evident mending: Tom of Holland. It was fantastic, just like a true eye-opening for me. After this fortunate meeting, I've invited him in Torino to watch him work, to learn from him. We've done a workshop together. Later on, I've attended some other classes in England, not with him although and he has remained my source of inspiration."
Here begins Paola's new job, the "Wardrobe Lady" comes to life. Why have you chosen this name? "The wardrobe woman was a figure that existed in the past century, in the high bourgeoise's private homes, she used to care the personal clothing of the masters. I was attracted by this character's efforts to maintain in life clothing as much as she could." 
Paola Pellino starts attending in presence classes, collaborating with "Fashion Revolution", a movement founded in England intended to draw attention to global sustainability, not only with regards to materials, but also to the social aspect, for example the defense of exploited workers employed to produce low-cost apparels. "I've began to hoard yarns, fabrics and I realized that this message has its appeal: taking care of what we own, trying to valorize something that no longer had a worth. A ruined sweater, some ripped jeans, or a cushion, an armchair or a bag: these are all objects that can come to a new life". 
"But my thought is – she continues – that darning must be visible. I adopt the traditional mending techniques, using diverse threads and colors, completely renewing something that would have been thrown away". Among Paola's commitments there is also a class of "creative darning" at the IED. "Young students yield the highest satisfactions, since it's important to revert to hand working. It's heartwarming to see 20 years old youth who passionate about this job. And it's not only girls whom I'm talking about. At the last IED class four boys sat at the last row on the first lesson, at the second lesson they sat in the middle, and at the end they were at the first row. All fascinated by this art."
In this pandemic, classes are online "on Saturdays' and I get a lot of requests, also because I can reach more people than I could have hosted in my in-presence classes. Plenty of people have never used a needle and then they get passionate about it. Handwork can be almost a form of meditation, of relax". "Classes are not crowded – Paola Pellino adds – I'd better create a relationship with those people, who often return".
An ancient world, but somehow a new world, that can also offer professional opportunities; "there always will be something to mend, because things are used and consumed. In my opinion the present concept in view of sustainability, recycling, producing less garbage with less environmental impact, are themes that capture youth's attention. Maybe creating collection of retrieved dresses. There's a lot to do in this field. This is a particular moment, under many aspects, a moment in which we often need to reinvent". Paola Pellino concludes with a smile: "If I look backward to these last four years, I can say I did it!".