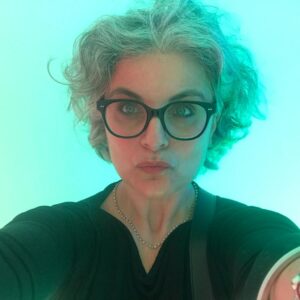 ANNA EVA RADICETTI: mother of a tee­na­ger, an impor­tant com­mit­ment in the UN Orga­ni­za­tion which has brought her around the world, and a pas­sion for handicraft…
Crea­ti­vi­ty needs cou­ra­ge, they say. And you, Anna Eva, have sho­wn plen­ty of it. Thou­gh, when and how did you begin this pre­cious and mul­ti­form activity?
It's not easy to mark a star­ting point, as a num­ber of pha­ses have cros­sed one each other. I can say that I star­ted to inve­st in my hand­ma­de works, that means sear­ching and buy­ing tools and mate­rials, when I began pain­ting… or, bet­ter said, when I began to blend colors on can­vas, crea­ting very color­ful paintings.
Then the curio­si­ty for a new mate­rial and dif­fe­rent creations…
Then I deve­lo­ped an inte­re­st for the paper, a kind of mate­rial that I love: when­ce the pro­duc­tion of big papier-mâché vases, to be pain­ted after­wards as they were pic­tu­res. At last (but not lea­st) the most recent crea­tion of jewel­ry, that is may­be the syn­the­sis of the fir­st two pha­ses, becau­se it encom­pas­ses the can­vas work on paper frames.
But you didn't stop the­re, your crea­ti­vi­ty tur­ned to other forms of expression.
The idea to crea­te jewel­ry took sha­pe during the lock-down in New York City, in a total­ly casual and unfo­re­seen way, by the attempt of infu­sing new life into unsuc­ces­sful or unfi­ni­shed pain­tings or paper proofs. I had a lot of stuff pac­ked away, always thin­king that some­day it could have been use­ful, and so did it. Each pie­ce of jewel­ry is abso­lu­te­ly uni­que, becau­se it comes from a dif­fe­rent can­vas patch. Jewel­ry, like vases, is nothing else but a decli­na­tion of colors, the same I used to prac­ti­ce in my abstract paintings.
For sure color is the fir­st ele­ment to draw atten­tion, asto­nish­ment, won­der, and remains one of the stron­ger cha­rac­te­ri­stics in your hand­works. What mea­ning and emo­tio­nal con­di­tion do you attri­bu­te to it?
Recen­tly a friend of mine has dedi­ca­ted to me a Picasso's quo­te: "Colors, ali­ke face fea­tu­res, fol­low the emo­tio­nal chan­ges". I think it per­fec­tly sui­ts to descri­be the dia­lo­gue bet­ween me ad the use of color, that defi­nes the final crea­tion. Just as an emo­tion makes face fea­tu­res chan­ge, the color chan­ges the lines which will sha­pe my hand­work. It's not the vase which is pain­ted in red, but it's red that beco­mes a vase… if it makes sense.

Due to your job, you've had often to move to dif­fe­rent homes in dif­fe­rent coun­tries. How has the con­tact with so diver­se cul­tu­res influen­ced your creativity?
A lot! Each coun­try has brought its influen­ce both upon the color palet­te (red, ochre, oran­ge are the colors I use the most), and upon my art expe­ri­men­ts, sub­ject also to the mate­rials avai­la­bi­li­ty, the spa­ce at my dispo­sal. In Afgha­ni­stan I used to play a lot with fabrics. In Bel­gium I devo­ted myself to pain­ting. And now, in New York City, craf­ting jewel­ry has step­ped in. It requi­res lit­tle room… the kit­chen table has beco­me my new laboratory!
Hori­zon is a tex­tu­re for all colors, what phan­ta­sma­go­ria in your future?
I love the thought of kee­ping on my expe­ri­men­ts. Fin­ding new sha­des, new color blends and mate­rial com­bi­na­tions, new crea­tions, be they pain­tings, vases, jewel­ry, embroi­de­red quil­ts… in que­st of wha­te­ver may inspi­re and attract me. A pas­sion for colors and a curio­si­ty for the mate­rial to be pain­ted, that I'm cer­tain will be sug­ge­sting me more and more ideas.
A con­cre­te project?
In the futu­re I'd like "some­thing" that may com­bi­ne my crea­ti­ve pro­duc­tion, the pos­si­bi­li­ty to tra­vel in order to find new inspi­ra­tions and con­ti­nue my social com­mit­ment. May­be a work­shop, which will host, some­how, all the­se exten­ts… work in pro­gress, as we say here in New York City.
Anna Eva Radicetti
https://www.annaeva-radicetti.com/