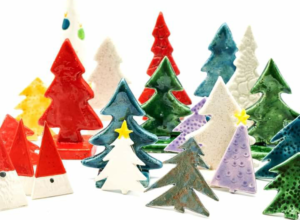 Speaking about Christmas gifts during the Pandemic may seem disrespectful and almost heartless considering our actual recent necessities, but a strong feeling support all of us and that's the love for all our dearest ones, from grandparents to the newborns. And a small present meant just for them does not represent a consumeristic act, but instead a concrete expression of that sentiment. Therefore, our thoughts towards the upcoming Christmas, which we believe we will be forever remembering, becomes oriented to several directions.
First of all, towards all those small artisanal workshops which we have passionately decided to narrate and support, activities that are really able to offer a wide typology and price variety of gifts. Then towards all traders who, much more than others, are enduring forced closure, risking to see compromised all their sacrifices of a lifetime.
Furthermore, towards all who, employed as collaborators in those workshops, are equally dwelling throughout precarious conditions, at all levels destabilizing. And also, towards those youth whose working future was already uncertain, and now offers even more limited perspectives. Many of these youth truly have talent and passions and have been inclined to embrace artisanal professions. We will be meeting them, giving them a "dedicated" spot, but they, just as all artisans, deserve to be recognized as true professionals of that unique and exclusive "handmade" that transforms a standard and common gift into a really affectionate homage. Those who are more expert in computer technology also utilize the online sale and are consequently reachable by means of that instrument, allowing a direct dialogue with the customer pending the re-opening of their activities to the public.
The invite remains unique and strong anyway. Let us support, for Christmas, the artisanal workshops and professions, let us discover them, let us eschew fast and impersonal buys, let us transform that gesture into a new opportunity also for ourselves. For, behind that "handmade", there are men and women who lay in wait to be known. That surely is a true gift. And if you happen to make interesting acquaintances, write to us. The dialogue is open with you and for you.