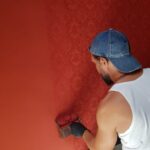 A casket of mar­vels, a magic box from which mul­ti­co­lo­red objec­ts come out.
When you speak to Fio­ren­zo Nad­deo, an archi­tect by for­ma­tion, but one who loves to defi­ne him­self a "Zero-Miles Arti­san", you get an impres­sion of fin­ding your­self befo­re a casca­de of mul­ti­co­lo­red objec­ts, with ideas cha­sing each other.
We meet him in Cor­so De Gaspe­ri, dea­ling with his late­st work: the tran­sfor­ma­tion of a histo­ri­cal barber's par­lor into a gastro­no­mic excel­len­ce pro­duc­ts retail. Bet­ween deco­ra­ted walls, a recen­tly moun­ted mir­ror, pie­ces of fur­ni­tu­re, he accep­ts to tell us his adventure.
"I'd stu­died Gra­phic Desi­gn and Adver­ti­sing, then Archi­tec­tu­re, but the tran­si­tion from the pen­cil to the lap­top didn't con­vin­ce me at all, and I'd bet­ter rein­vent my pro­fes­sio­na­li­ty, beco­ming a 'Zero-Miles Arti­san'. I like con­vey­ing the soul of a loca­tion, a home, being on site bet­ter than sit­ting in front of my laptop".
"I love visi­ting the flea mar­ke­ts, I'm a com­pul­si­ve hoar­der. I like to col­lect any object: vin­ta­ge post­cards, fur­ni­shing com­ple­men­ts, wha­te­ver tastes like 'things past'". Thus, unu­sual lamps take sha­pe from hair dryer or caout­chouc cro­co­di­les and sna­kes. But also, décor cushions rea­li­zed with col­lec­tions of scarves.
And actual­ly, whi­le going throu­gh flea mar­ke­ts Fio­ren­zo Tad­deo disco­ve­red an object that has given his acti­vi­ty a new cour­se: the rub­ber rol­ler alrea­dy in use in the '40s, espe­cial­ly in coun­try homes in order to imi­ta­te the wall­pa­per. "By now I own about 70 rol­lers, bought in flea mar­ke­ts or on the web: throu­gh them I can repro­du­ce the most diver­se pat­terns: flo­ral, orien­tal or geo­me­tri­cal desi­gns. I pro­ceed with the color proof, try to under­stand the soul of the loca­tion, then I begin my work."
"In my life – he con­ti­nues – I've hoar­ded a lot, but also accu­mu­la­te plen­ty of expe­rien­ce. I can say that my way of life is 'retrie­ve, re-use, rein­vent', that means do not waste mate­rials which can have more lives." "In the fir­st pha­se eve­ry­thing has stop­ped – he says – each pro­ject about to start has been shel­ved. Then, sin­ce June an incre­di­ble rush, as we had to make up for the lost time. Now it is slo­wing down again, but thank­ful­ly I have stoc­k­pi­led seve­ral pro­jec­ts, which allow me to keep on working".
Con­tat­ti
sofiona70@gmail.com | Insta­gram