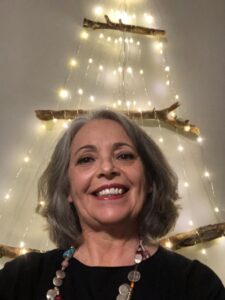 A simple elegant outfit, a proper elocution: she may be portrayed as a lady of yesteryears. Actually, her passion for history, for the cultural heritage combined with her "gold hands" skill enhances her creative verve. Truly unique!
She is Rita Folco Zambelli, a husband, a son, and a deep-rooted love for her city of adoption, Vicenza…
Rita, considering your ability to "reinvent" yourself, your peculiar inspiration, your extraordinary hand craftsmanship, above all your inspiration, would you accept to be defined as "an artisan of life"?
Yes, certainly. I'm an "artisan" because I'd been able to exploit my manual skill to give shape to my creative inspiration. "Of life" is also correct, as my numerous and very diverse activities characterize the different aspects and moments of everyday life, but also of the artistic one. Reconsidering my past experiences, I remember with a little nostalgia the exhibition in Arona, where I first presented my watercolors, and when in Milan I hand painted fabrics…
Then a long, intense curriculum, rich in important activities: event planner, writer, stage designer, painter and… trained chef. Which ones are your most rewarding feats?
Event planner… I have one in mind in particular. I used to have my own Agency In the Principality of Monaco and I had the honor and challenge of organizing, on behalf of Toshiba France, an award vacation for the brand 50 best vendors. Three unforgettable days: restaurants, hotels and especially privileged seats on the terrace facing the Formula 1 Grand Prix circuit. The start line, the final party!
I remember plenty of other events and each of them with satisfaction and pleasure: a concert of the Gospel Choir I was touring with in Italy and abroad, organized in only 24 hours!!And yet the first Concert il the new Theatre in Vicenza. My last exploit? It's still a project, the publishing of a book collecting the memories of my husband's two aunts: one of them was a Red Cross Nurse during WWI. Just before my moving to New York, the Compagnia Theama staged a theatre performance based on this beautiful story.
Still your passion for "cooking" is predominant. You have been living in New York City for three years: you had to be brave in order to accomplish your project. Now your brand "MAMMARITA" has become a quality leader for some niche restaurants and for privates demanding a traditional and genuine catering.
I don't think you need courage to transform your passion in reality. If I have a project, I just go straight on and make it, I don't ask myself if I will be able to accomplish it. And cooking is my greatest passion!
How much historic research and improvisation in the traditional Italian recipes of your menu?
I love making research. I own a rich library on culinary subjects: there are ancient books and booklets full of recipes compiled by family cooks. I don't invent, I transform, combine very diverse food products: the results? Surprising flavors! I also love theme-based menus, just alike cocoa and apple dishes. Highly appreciated, my Chutney, sweet and sour sauces to serve with cheese and meat, are my 'calling card'. Indeed, many people buy them as a gift for their dearest ones.
Moreover, I don't forget, I really can't, what I believe is one of my greatest achievements: I manage to have an original recipe by the chef Amedeo Sandri. But it cost me the promise not to share it with anybody.
It won't be easy to find in New York City the special ingredients belonging to our country, like the red Radicchio of Treviso or the round gentle hazelnut of the Langhe…
Here in New York you can find almost everything, then it only takes a ten minutes ride to reach a polish butcher's. Just a few days ago I discovered it and finally I could cook a "lesso" worth the name. For sure I miss the beautiful rich salads … and the "cotechino"? I still dream it!
Your "cooking" has great success: who are your clients?
My clients are mainly Italians: for them I prepare the Lasagne with the handmade pasta and some other specialties. The Americans? They love my energy; I could even cook worse!
Let us dream about… your Christmas Menu.
I've not decided yet, but for Christmas I may cook a pumpkin soup with orange slices and a sprinkle of chili pepper of Espelette, a delicate leeks cream soup, a goose breast with cocoa sauce and the traditional Tiramisù, my cup of tea!
Would you mind giving us a recipe for the holiday season to share with our followers?
This is a recipe of a typical Christmas cake, that fits with the time: it was given to me by a sweet German friend of mine. It's really easy to make and, when stored in a plastic bag food in a fresh spot, it may be kept for two months.
You can make two loaves with these quantities: I usually make two 29 cm-round cakes.
You need 500 gr. flour, 16 gr. yeast, 200 gr. sugar, a sachet of vanilla sugar, 2 eggs, a teaspoon of Rhum, the grated peel of a lemon, 250 gr. ricotta cheese, 125 gr. butter, 250 gr. Sultanas, 125 gr. grossly minced almonds, 80 gr. candied oranges.
Pour flour in a blender, add sugar, yeast, softened butter, eggs, ricotta cheese and Rhum. Mix them very well, and add the rest of the ingredients. If you prefer the two loaves make a lateral groove on each of them and place them on a baking paper plate, otherwise, for the 2 round cakes, use aluminum containers. Bake in the warm oven at 160º C for about 70 minutes. It should remain of a light color. When it has cooled, sprinkle with powdered sugar and… bundle with a red bow.
Any other projects under your Christmas tree, a new surprise?
Right now, I don't have a new project as regards my job, but I have a little garden where I grow aromatics herbs and that this year has given me a huge number of tomatoes. For the next summer I'd like to grow also other kinds of vegetables and the famous salads that I cannot find here.
Facebook: Rita Folco Zambelli
Instagram: mammaritany
Email: c.mariarita@gmail.com