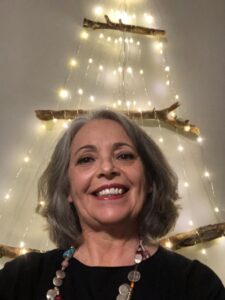 A sim­ple ele­gant out­fit, a pro­per elo­cu­tion: she may be por­trayed as a lady of yeste­ryears. Actual­ly, her pas­sion for histo­ry, for the cul­tu­ral heri­ta­ge com­bi­ned with her "gold hands" skill enhan­ces her crea­ti­ve ver­ve. Tru­ly unique!
She is Rita Fol­co Zam­bel­li, a husband, a son, and a deep-roo­ted love for her city of adop­tion, Vicenza…
Rita, con­si­de­ring your abi­li­ty to "rein­vent" your­self, your pecu­liar inspi­ra­tion, your extraor­di­na­ry hand craf­tsman­ship, abo­ve all your inspi­ra­tion, would you accept to be defi­ned as "an arti­san of life"?
Yes, cer­tain­ly. I'm an "arti­san" becau­se I'd been able to exploit my manual skill to give sha­pe to my crea­ti­ve inspi­ra­tion. "Of life" is also cor­rect, as my nume­rous and very diver­se acti­vi­ties cha­rac­te­ri­ze the dif­fe­rent aspec­ts and momen­ts of eve­ry­day life, but also of the arti­stic one. Recon­si­de­ring my past expe­rien­ces, I remem­ber with a lit­tle nostal­gia the exhi­bi­tion in Aro­na, whe­re I fir­st pre­sen­ted my water­co­lors, and when in Milan I hand pain­ted fabrics…
Then a long, inten­se cur­ri­cu­lum, rich in impor­tant acti­vi­ties: event plan­ner, wri­ter, sta­ge desi­gner, pain­ter and… trai­ned chef. Which ones are your most rewar­ding feats?
Event plan­ner… I have one in mind in par­ti­cu­lar. I used to have my own Agen­cy In the Prin­ci­pa­li­ty of Mona­co and I had the honor and chal­len­ge of orga­ni­zing, on behalf of Toshi­ba Fran­ce, an award vaca­tion for the brand 50 best ven­dors. Three unfor­get­ta­ble days: restau­ran­ts, hotels and espe­cial­ly pri­vi­le­ged sea­ts on the ter­ra­ce facing the For­mu­la 1 Grand Prix cir­cuit. The start line, the final party!
I remem­ber plen­ty of other even­ts and each of them with sati­sfac­tion and plea­su­re: a con­cert of the Gospel Choir I was tou­ring with in Ita­ly and abroad, orga­ni­zed in only 24 hours!!And yet the fir­st Con­cert il the new Thea­tre in Vicen­za. My last exploit? It's still a pro­ject, the publi­shing of a book col­lec­ting the memo­ries of my husband's two aun­ts: one of them was a Red Cross Nur­se during WWI. Just befo­re my moving to New York, the Com­pa­gnia Thea­ma sta­ged a thea­tre per­for­man­ce based on this beau­ti­ful story.
Still your pas­sion for "coo­king" is pre­do­mi­nant. You have been living in New York City for three years: you had to be bra­ve in order to accom­plish your pro­ject. Now your brand "MAMMARITA" has beco­me a qua­li­ty lea­der for some niche restau­ran­ts and for pri­va­tes deman­ding a tra­di­tio­nal and genui­ne catering.
I don't think you need cou­ra­ge to tran­sform your pas­sion in rea­li­ty. If I have a pro­ject, I just go straight on and make it, I don't ask myself if I will be able to accom­plish it. And coo­king is my grea­te­st passion!
How much histo­ric research and impro­vi­sa­tion in the tra­di­tio­nal Ita­lian reci­pes of your menu?
I love making research. I own a rich libra­ry on culi­na­ry sub­jec­ts: the­re are ancient books and boo­kle­ts full of reci­pes com­pi­led by fami­ly cooks. I don't invent, I tran­sform, com­bi­ne very diver­se food pro­duc­ts: the resul­ts? Sur­pri­sing fla­vors! I also love the­me-based menus, just ali­ke cocoa and apple dishes. Highly appre­cia­ted, my Chut­ney, sweet and sour sau­ces to ser­ve with chee­se and meat, are my 'cal­ling card'. Indeed, many peo­ple buy them as a gift for their dea­re­st ones.
Moreo­ver, I don't for­get, I real­ly can't, what I belie­ve is one of my grea­te­st achie­ve­men­ts: I mana­ge to have an ori­gi­nal reci­pe by the chef Ame­deo San­dri. But it cost me the pro­mi­se not to share it with anybody.
It won't be easy to find in New York City the spe­cial ingre­dien­ts belon­ging to our coun­try, like the red Radic­chio of Tre­vi­so or the round gen­tle hazel­nut of the Langhe…
Here in New York you can find almo­st eve­ry­thing, then it only takes a ten minu­tes ride to reach a polish butcher's. Just a few days ago I disco­ve­red it and final­ly I could cook a "les­so" worth the name. For sure I miss the beau­ti­ful rich salads … and the "cote­chi­no"? I still dream it!
Your "coo­king" has great suc­cess: who are your clients?
My clien­ts are main­ly Ita­lians: for them I pre­pa­re the Lasa­gne with the hand­ma­de pasta and some other spe­cial­ties. The Ame­ri­cans? They love my ener­gy; I could even cook worse!
Let us dream about… your Christ­mas Menu.
I've not deci­ded yet, but for Christ­mas I may cook a pum­p­kin soup with oran­ge sli­ces and a sprin­kle of chi­li pep­per of Espe­let­te, a deli­ca­te leeks cream soup, a goo­se brea­st with cocoa sau­ce and the tra­di­tio­nal Tira­mi­sù, my cup of tea!
Would you mind giving us a reci­pe for the holi­day sea­son to share with our followers?
This is a reci­pe of a typi­cal Christ­mas cake, that fits with the time: it was given to me by a sweet Ger­man friend of mine. It's real­ly easy to make and, when sto­red in a pla­stic bag food in a fresh spot, it may be kept for two months.
You can make two loa­ves with the­se quan­ti­ties: I usual­ly make two 29 cm-round cakes.
You need 500 gr. flour, 16 gr. yea­st, 200 gr. sugar, a sachet of vanil­la sugar, 2 eggs, a tea­spoon of Rhum, the gra­ted peel of a lemon, 250 gr. ricot­ta chee­se, 125 gr. but­ter, 250 gr. Sul­ta­nas, 125 gr. gros­sly min­ced almonds, 80 gr. can­died oranges.
Pour flour in a blen­der, add sugar, yea­st, sof­te­ned but­ter, eggs, ricot­ta chee­se and Rhum. Mix them very well, and add the rest of the ingre­dien­ts. If you pre­fer the two loa­ves make a late­ral groo­ve on each of them and pla­ce them on a baking paper pla­te, other­wi­se, for the 2 round cakes, use alu­mi­num con­tai­ners. Bake in the warm oven at 160º C for about 70 minu­tes. It should remain of a light color. When it has coo­led, sprin­kle with pow­de­red sugar and… bund­le with a red bow.
Any other pro­jec­ts under your Christ­mas tree, a new surprise?
Right now, I don't have a new pro­ject as regards my job, but I have a lit­tle gar­den whe­re I grow aro­ma­tics herbs and that this year has given me a huge num­ber of toma­toes. For the next sum­mer I'd like to grow also other kinds of vege­ta­bles and the famous salads that I can­not find here.
Face­book: Rita Fol­co Zambelli
Insta­gram: mam­ma­ri­ta­ny
Email: c.mariarita@gmail.com