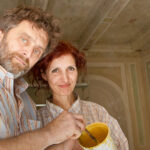 Just a big oak wood log, as in Pascoli's poem, all around the pea­san­ts would pour wine into the glas­ses. Nowa­days just a wood log, or even less than that, and a lit­tle color in expert hands beco­mes a hou­se… a shel­ter for spar­ro­ws and swal­lo­ws. A thought of con­cern in the­se cold days and a fee­ling of ten­der­ness in the spi­rit of Christ­mas. It's the for­tu­na­te idea by Lore­da­na and Mau­ri­zio Bet­ti. Let us know more about you two: who are you? What about your sensitiveness.
The­re is no deny­ing that the poe­try of the land whe­re we live and work has highly influen­ced us. The Roma­gna region is a pla­ce whe­re the pea­sant tra­di­tions are stron­gly roo­ted, here we sta­re at the moon with eyes always full of won­der. We were both born in Rimi­ni, but have dif­fe­rent edu­ca­tion. My husband Mau­ri­zio is the son of a resto­rer and he learnt in his father's work­shop the art of resto­ra­tion and han­di­craft. I, Lore­da­na, atten­ded the Liceo Arti­sti­co in Rimi­ni, then I moved to Bolo­gna, whe­re I stu­died at the Beaux Arts Aca­de­my and at DAMS – arti­stic Bachelor.
How was the fir­st bir­d­hou­se con­cre­te­ly conceived?
Cip­pa­ni­co was the name of the bir­die that fir­st inspi­red Mau­ri­zio. He used to fly free­ly within the work­shop and keep him good com­pa­ny hop­ping from one shoul­der to the other, whi­le he was working.
When Mau­ri­zio had built the bir­d­hou­se, Cip­pa­ni­co ini­tial­ly loo­ked at it with suspi­cion, but in a few mon­ths, the bir­d­hou­se began that lit­tle win­ged friend true home. The­re was a small porch, from which it would be obser­ving the work­shop guests, a bir­d­fee­der, whe­re it used to take refresh­ment. The­re was also a "slee­ping quar­ter" in the back, whe­re Cip­pa­ni­co used to spend the night wai­ting for the work­shop to open the fol­lo­wing mor­ning. Sin­ce his chil­d­hood, Mau­ri­zio has been cul­ti­va­ting his pas­sion about orni­tho­lo­gy, that had made him wish a win­ged friend.
Wood is off the essen­ce, but the reco­ve­ry of discar­ded mate­rials is impor­tant, too… Which stran­ge object or pie­ce of object have you found and what kind of inspi­ra­tion has it given you"?
Seve­ral out-of-use objec­ts, pots, pans, jugs and ket­tles have inspi­red the crea­tion of what we have cal­led the "Gar­den of Neces­si­ty". It was custo­ma­ry here in Roma­gna, but even in the who­le Ita­ly, to employ old alu­mi­num pots as vases for plan­ts. It takes a lot of care, plen­ty of patien­ce in order to re-crea­te, give a new life to rui­ned objec­ts, and we favor the most ancient ones with hand­les in rive­ted brass or bake­li­te. We deco­ra­te them in soft sha­des and we refi­ne them to be resistant.
The gar­den and out­door fur­ni­tu­re, whe­re a big role is played by bir­d­hou­ses, actual­ly inclu­des a lot more…
Yes, in fact among the other pie­ces the Gazott stand out. They are gar­den sta­tues in the sha­pe of big spar­ro­ws, hand mol­ded with cement mor­tars of our crea­tion. Some of them "wear" a cap in order to grow plan­ts in it, some others are basis deco­ra­ted with flo­wers, lea­ves, acorns.
From whom this idea, this inspiration?
It was Maurizio's idea, it came as a memo­ry of one of his chil­d­hood favo­ri­te games, made of earth and fan­ta­sy, when, besi­de his gran­d­fa­ther, a gar­de­ner, he enjoyed mol­ding lit­tle spar­ro­ws with mud-clay.s
For crea­ting a pecu­liar, fine pie­ce, it is requi­red a per­fect han­di­craft skill besi­des a very spe­cial talent: qua­li­ties that you have more wide­ly expres­sed in the resto­ra­ti­ve and deco­ra­ti­ve art insi­de apart­men­ts and vil­la with orna­men­ts on cei­lings, walls, fire­pla­ces… ali­ke tho­se whe­re the wood logs were once burning.
I'm spe­cia­li­zed in deco­ra­ti­ve pain­ting. I've made cycles of pic­to­rial deco­ra­tions in histo­ric man­sions: each time I've taken inspi­ra­tion from the histo­ry of the loca­tion, of the buil­ding, of the town. My works are tales of true life, be they por­trayed on dama­sk fabrics or bas-reliefs with a girl's visa­ge among acan­thus lea­ves, or even tromps l'oeil of vil­la­ges at sun­set, dra­ped cei­lings or ancient chinoiserie.
Pre­cious orna­men­ts, vin­ta­ge clas­si­cal art? I belie­ve you are very popu­lar on the han­di­craft market.
Plen­ty of sub­jec­ts and hin­ts come from the Past, always agreed upon with the client, thanks to a pre­ci­se deve­lo­p­ment of in sca­le sket­ches. In par­ti­cu­lar I've wor­ked toge­ther with the Supe­rin­ten­den­ce of Fine Arts in order to resto­re some decors insi­de the histo­ric man­sion of the Prin­ces Tor­lo­nia at San Mau­ro Pasco­li, the pla­ce named after the famous Poet.
Your work­shop is based in San­tar­can­ge­lo di Roma­gna, a tru­ly pecu­liar loca­tion, but during the loc­k­do­wn have you con­si­de­red any other new kind of approach to busi­ness, may­be online?
Fir­st and fore­mo­st, I'd like to remem­ber the won­der­ful sta­ging of the Gar­den of Neces­si­ty, which Mau­ri­zio and I have pre­sen­ted at Graz­za­no Viscon­ti in the park of the Vil­la once owned by Luchi­no Viscon­ti. It has been an extraor­di­na­ry way to cele­bra­te the Cen­ten­nial of the birth of the great Toni­no Guerra.
Our work­shop in San­tar­can­ge­lo? Well, it has a spe­cial soul, whoe­ver comes and visit it feels enchan­ted, it's a world, whe­re Mar­vel rei­gns. A few visi­tors now can be admit­ted, that's why we have desi­gned a web­si­te, just ali­ke our work­shop: it seems like ente­ring the­re, wan­de­ring among our most beau­ti­ful and diver­se crea­tions: they are nests, avia­ries for all kinds of birds, sta­tues of small spar­ro­ws, lit­tle mush­rooms, enor­mous chest­nu­ts. They are water­co­lors pain­tings depic­ting robins and chic­ka­dees, but also items of fur­ni­tu­re, pre­cious con­so­les, upstands for tables, all ela­bo­ra­te­ly handcrafted…of course!!!
Then, what about your website?
For the moment, you can find us on www.labottegadibetti.com. But we are also on Insta­gram and Facebook.