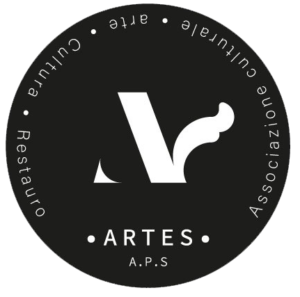 The Association ARTES APS was founded in 2014 by a group of artisans and a webmaster, with the intent to create a reference network in order to promote artistic and traditional handicraft, to compare know-how and design, to support the private and the public sector in recovery and valorization of the artistic assets and their cultural value.
Since the very beginning valorization and communication projects, partnering with the Institutions, have been implemented: first of all, the photography exhibition dedicated to the artisans at work and named "ArtigianaTo", that was staged at the main floor of the Townhall facing Sala degli Stemmi. Then ARTES has supported the city administration in the redevelopment and restoration project of the air raid shelter at the basement of the Townhall: a work presented by the Association to the community together with a path illustrative of the subsequent renovation steps, still included in the tour.
In the following years a parallel workstream was dedicated to young emerging artists, through the organization of a yearly art show hosted in more and more renowned locations, an opportunity for several artists to introduce themselves to the world of contemporary art. The most outstanding is Pier Tancredi De-Coll, who "spread his wings" at the first edition and now exhibits his works at national and international events, rewarding with a feeling of pride the Association and the organizing team.
Within our social mission, always on volunteering bases, we have also engaged in some other actions in favor of the community, like restoring the Votive Altar in the Park of Remembrance and the Alberto Ascari memorial site. 
Projects keep on flowing. Now in progress there are: a project in partnership with the University and the regional administration intended to develop a research and promote the anthropological and cultural worth of the handicraft on the territories, a project to promote handicraft in the secondary school as an alternative to conventional study/work paths, a project to promote a tour of the workshops connected to the visit at some Museums (Villa della Regina and Fondazione Accorsi/Ometto), tasting of  typical products and guided tours in unusual venues of the city.
In addition to all this, let's not forget the never-ending commitment in sharing information and knowledge among the members of the Association, that includes now also a number of design professionals, the will to organize national and international events and the continuous quest for new ways to highlight a manual skill somehow mistreated in the "age of thought", but which is the foundation on the collective taste and of the territories true values.