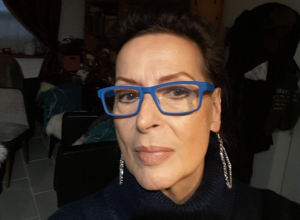 Hi Adria­na! You lan­ded in the Big Apple when you were 38 years old with your ado­le­scent twins. How did you spend your fir­st years there?
For sure it was no easy life espe­cial­ly in the fir­st year, we nei­ther had friends nor could speak English at all: we star­ted in wor­king in restau­ran­ts, then I mana­ged to open an Inter­na­tio­nal Bro­ke­ra­ge Firm, that lasted almo­st nine years. After a seven-mon­ths period in San Fran­ci­sco, I came back to New York City and I star­ted over again: I wor­ked as a coat check in an Ita­lian Restau­rant, and in the mea­n­whi­le I began to cul­ti­va­te my pas­sion. Lit­tle by lit­tle what had once been only a hob­by came to be my job.
How would you like to be defi­ned today?
I defi­ne myself as an all-round arti­san, I love to diver­si­fy, from clo­thing to accessories…
Regar­ding this I've heard that you had been Cin­dy Lauper's sty­li­st in the 2000s.
Yes, for seve­ral years I cured her per­so­nal and sta­ging clo­thing, making all the pos­si­ble refi­ne­men­ts. She is a won­der­ful woman… Ita­lian by mother!
Excu­se me for inter­rup­ting you, you were say­ing you like diversifying…
That's true, but my main job, the one that I do for a living is in Inte­riors Deco­ra­ting, that means to re-uphol­ster pie­ces of fur­ni­tu­re or even to "bring them back to life".
Cer­tain­ly, it requi­res a con­so­li­da­ted craf­ti­ness, toge­ther with a great ima­gi­na­tion, but also a con­si­de­ra­ble orga­ni­za­tio­nal abi­li­ty. How can you mana­ge both work and housekeeping?
It's dif­fi­cult to mana­ge eve­ry­thing, I work in my stu­dio-base­ment, still I do what I like and this allo­ws me to car­ry on…
Who are your clients?
I have a diver­se and distin­gui­shed clien­te­le. I mana­ge to build good rela­tion­ships, that's impor­tant to me, as a mat­ter of fact they always come back with new projects.
I belie­ve that you also need a bit of psy­cho­lo­gi­cal insight in your work.
Yes, it's true, it may occur that you have to meet the needs of deman­ding clien­ts, that's when you neces­si­ta­te to use psy­cho­lo­gy: I try to make them ima­gi­ne my fini­shed pie­ces throu­gh my eyes, I've always sati­sfied all of them.
Spea­king of fee­ling, any nostal­gia for Ita­ly? Would you come back and work here?
I par­ti­cu­lar­ly miss my friends and the land of Tosca­na, in fact I hope one day to be back and con­ti­nue the­re my job as an arti­san… of course!